WWW.REPUBLICACOFFEEROASTERS.COM
I received an email a few days ago from Lon Hart letting us know about their roasting operation in Austin. Lon writes,
Please add me to the list of roaster on this site. We are located in Cedar Park(austin).

We have been suppling Central Texas with fresh roasted coffee for over 5 years now. We see the need to educate shops and barista's on the basics of coffee and espresso in our area. Too many time do we visit shops in the area and the barista's have no clue on basic technics…which tells us their training was poor. Our focus over the next couple years will be to offer free training since the shop owners dont seem to have the time or even care to show anyone how to pull an average shot.

thanks, Lonn Hart
Their website, admitedly, needs some work, but that never stopped anyone from roasting coffee to perfection. I cannot speak for the quality, since I have never tried it, but 5 years is plenty of time for learning if one pays attention in earnest.
www.republicacoffeeroasters.com
Republica Coffee Roasters has been added to our List of Roasters.
July 19th, 2008
9:00am
Mosaic Cafe
2435 Kinwest
Irving, TX, 75063
Map and Directions
Hosted By:

and
Click Here for more info.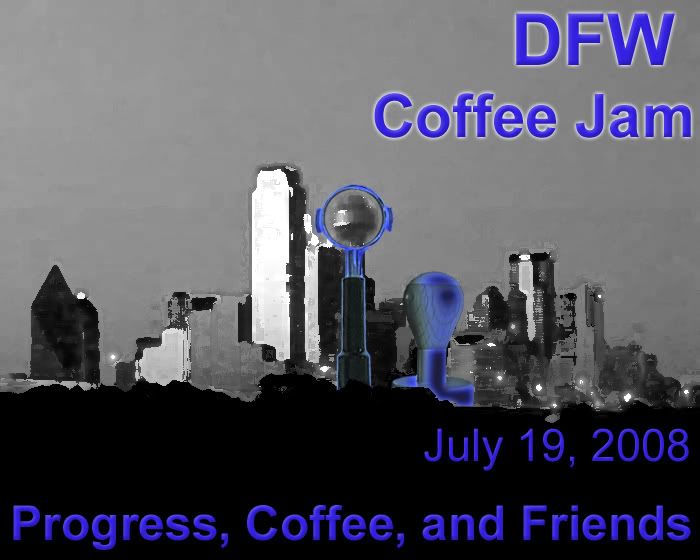 Cupping for quality and roasting analysis
Connecting with the consumer market (customers)
Creating a Culture of Excellence
Espresso techniques and free time
Latte Art Throw Down
Networking
Sponsors
___________________________________________________________
Sponsorships Available! (Contact Us)
This project is a work in progress

I received a very brief email mentioning this coffee company in the DFW area.
It simply said,
specialty coffee roaster, wholesale and retail, Australian to zimbabwe. roastinf for 10 yrs, fair trade, all organic, equal exchange.
Well, I guess that about sums it up!
I did find this little tidbit on their website that I found to be of interest.
We are based in Tx, and offer the finest beans to be had anywhere in the world. All of our products are Certified Organically Grown, purchased only from Fair Trade Growers, and hand selected to insure only the highest grades make it into to your cup.
Mawker Coffee
www.mawkercoffee.com
600 S. Main St.
Grapevine, TX 76051
Ph: 469-569-6718
Mawker Coffee has been added to the lists of Roasters and Retailers.
Third Coast Coffee Roasting
I received an email the other day from Linda Ryan of Third Coast Coffee Roasting saying,
I am the owner of Third Coast Coffee Roasting Company in Austin Texas. We specialize in Fair Trade Organic coffees, and are the only member of Cooperative Coffees in the Southern US. I would like to be included in your website. Thank you.
I confess, Cooperative Coffees is new to me, so I did a little searching and found this: http://www.coopcoffees.com/
Cooperative Coffees is a green coffee importing cooperative, comprised of 23 community based coffee roasters in the USA and Canada, committed to building and supporting equitable and sustainable trade relationships for the benefit of farmers and their exporting cooperatives, families and communities.
Interesting.
They have a website, but it doesn't have much information on it. (nudge, nudge) http://thirdcoastcoffee.com
Third Coast Coffee Roasting has been added to our list of roasters.
I received an email from Shannon to let us know about their roasting company. He writes,
I just wanted to let y'all know about us. We're a specialty roaster in Oak Cliff (Dallas). We deliver in Oak Cliff and ship anywhere. And deal mostly with Fair Trade, Direct Trade and Organic/Natural coffee.

We're only online right now but we're looking to open a shop soon.

Thanks,
Shannon Neffendorf
Oak Cliff Coffee Roasters
I poked around a bit on their website, and found this in the "About us" section:
Coffee initially became a passion of ours because of the conversations and connections with family, friends and new acquaintances that it facilitates. The passion grew into roasting high quality coffee beans and sharing the passion with others. Coffee, much like life, should not simply be about what you consume but also what you can create.

We desire to create a great coffee experience from aroma to taste to conversation through our beans. Also to do our part, however small it may be, to create a better quality of life for the most crucial aspect of a good cup of coffee, the farm it's grown on.
Thanks for telling us about your roasting outfit, Shannon.
Oak Cliff Coffee has been added to the list of Roasters.
I received an email from Bill Giffen today regarding his roasting company.
Bill writes,
Come by and visit our store, we are open 24/7. COE. Sngle origin, Gunslinger and Pony Espresso
From the "About Us" page on the website,
We, Bill & Gayla Giffen, began this company out of our enjoyment of coffee. Ten years ago we were intoduced to the finest Americano money could buy. We stumbled upon this coffee shop, Camp 4 Coffee, in Crested Butte, Colorado. We spotted a sign on the side of a small, run down building. There was little room inside for two people to stand sideways. We ordered coffee, but to our suprise didn't get coffee poured out of a coffee pot, as expected. The gentleman behind the counter fixed Gayla and I a fresh shot Americano (espresso coffee with hot water.) WOW! It was that goooood! Needless to say, we had our mark by which to compare all other espresso drinks. We still vist Camp 4 Coffee when in the area and it is still some of the very best. Our hope is that you will enjoy our final product as much as we have enjoyed learning about the coffee process.
And from the Texas Coffee People forums,
Click 1
and
Click2
It seems they will sell green coffee to the public as well.
Bill also said,
Catalina Coffee at 2201 Washington will serve you up my Gunslinger or Pony Espresso.
Bill Giffen


Grounds for enthusiasm – link
Houston Business Journal – by Susan Powell Special to Houston Business Journal

By dedicating himself to not only brewing a fabulous cup of coffee, but also sharing his passion for premium coffee with the world, Mike McKim has turned an avocation into a full-time occupation.
At his company's headquarters in a small nondescript strip mall at 2810 Louetta Road in Spring, about a mile west of Interstate 45, it's clear that McKim, CEO of Cuvée Coffee Roasting Co., is building a business aimed at other professionals.
The full-service operation imports the world's finest beans, then roasts them to exacting standards.
A big congratulations to Mike and Cuveé!
We've seen Brown and Gallo in the press before, and this isn't the first time I've seen Cuveé in print.
Who's next?

http://www.panthercitycoffee.com/
The roaster retailer in Ft. Worth known as Panther City Coffee has officially closed its doors after months of being up for sale.
Panther City was one of very few places in the greater DFW area doing anything worth writing home about. They roasted in house on a Deidrich roaster that was situated out in plain sight near tables so patrons could watch, or just have a look at the equipment involved in making the coffee they were drinking become what it has.
They pulled shots on a La Marzocco Linea, and at least one of the baristas poured art regularly.
The equipment will be listed on e-bay shortly.
Panther City Coffee will be missed.
I received this email from Jess a couple of days ago,
Good Morning,

Our web page should be up and running some time this week!

Thanks

Jess Haupt
Buna Bean Coffee
And sure enough, it is. Great looking site, Jess!
http://www.bunabean.com/
I received an email regarding Rivertown Roasters in San Marcos, TX. I had never heard of it until now.
CJ writes:
Rivertown Roasters, located in San Marcos, TX. Organic small batch coffees, teas, and syrups. Over 50% fair trade, fresh roasted when orders are received.
Contact Justin at 281-222-9296 or email the roaster at cj@rivertownroasters.com
The email says "Over 50% Fair Trade", but the website says over 75%.
They sell to three local (to San Marcos) coffee retailers, and you can order by calling or emailing them. (no web commerce as of writing this). They also host small cuppings once a month.
The site also says something about a grand opening celebration "This Saturday", but it doesn't specify if it was the 23rd or if it will be March 1st.
Thanks, CJ.
Rivertown Roasters has been added to our Roasters page.