As taken straight from the official Beatnix Myspace blog.
Beatnix Coffee House to Close Saturday

7/23/2008 / Waco, Texas

This Saturday, July 26th, will be the final day that Beatnix Coffee
House opens its doors to the public. A "Closing Bash" will be held,
featuring performances by local musicians.

Beatnix's owner announced on Wednesday the closing of the coffee house
and cultural venue at 1826 Lake Shore Drive, due to poor economic
conditions and lack of capital for expansion.

Opened in 2005 by Penney Simpson, Todd Millerd, and Sandra Hapenney,
Beatnix quickly became known not only for its gourmet coffee and
sandwiches, but as a haven for poetry, art, and music. It was awarded
the Music Association of Central Texas' Groovy Award for Non-Club Venue
of the Year in both 2007 and 2008.

Simpson said "Beatnix has been my dream, and I had so many plans for it,
ways that it could be a gathering place and creative spark for Waco's
culture. But it had to move and grow in order to survive, and our
attempts to find investors or purchasers for the business have all
proved to be dead ends."

Beatnix Coffee House will be open for normal business through Saturday.
On Saturday evening, it will hold a final "Closing Bash" at 6 pm, with
local musicians performing on stage for the last time.
Lack of capital for expansion? Was the business failing, or has it just been stagnant too long?
In any case, nobody ever likes to hear of a shop closing. As a coffee professional, I can't help but be curious as to why it happens. Each case is different, and it's often, though not always, due to failing financially. (or being marooned by the city *coughtpanthercitycough*)
What good is a Groovy Award if it can't save your business? It must be defective!
Thanks to Badger for the tip.
I received an email from Jonathan A. at White Rock Coffee letting us know about this place near the heart of Dallas.
Jonathan writes,
Just wanted to let you know about a new independent shop in the DFW area. Crooked Tree Coffeehouse opened about a month ago in Dallas' uptown area, at 2414 Routh Street. It's in a pretty "hip" area of town- a residential neighborhood rezoned for business. It's nice to find a coffeeHOUSE in a big city. Cozy location, comfortable furniture, live music is very intimate but can get kind of crowded (no actual stage, just set up in the corner). The owners and baristas are VERY passionate about coffee. They make some great espresso drinks, and also serve your usual fare of teas, chai, smoothies and pastries. All of their coffee comes from a company in Colorado Springs called Bywell, and it's all Fairtrade organic. You can find there website at crookedtreecoffeehouse.com.
Cool! The last time I visited a House converted into a coffee retailer was at Common Grounds in Waco.
Has anyone else visited this place?
Thanks for the heads up, Jonathan.
Crooked Tree Coffee House has been added to our List of Retailers.
July 19th, 2008
9:00am
Mosaic Cafe
2435 Kinwest
Irving, TX, 75063
Map and Directions
Hosted By:

and
Click Here for more info.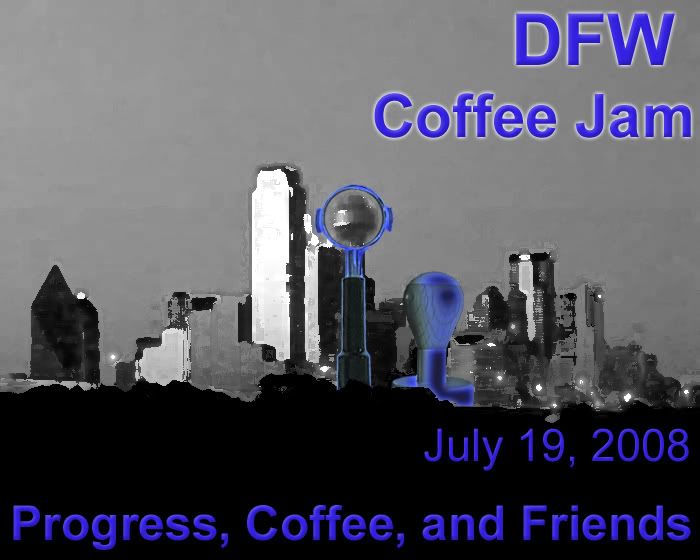 Cupping for quality and roasting analysis
Connecting with the consumer market (customers)
Creating a Culture of Excellence
Espresso techniques and free time
Latte Art Throw Down
Networking
Sponsors
___________________________________________________________
Sponsorships Available! (Contact Us)
This project is a work in progress

My SO (not Single Origin) and I dropped into our local gem of a shop: Sugar Brown's Coffee to grab a cup, play some cards, enjoy the live music and atmosphere, and to just have a good time.
Being past students of mine, they are always excited to tell me of news going on. There is much to tell about their journey, but this is not about their shop, so much as of their latest step forward.
They acquired a third espresso grinder.
Most shops are content with a Decaf grinder and a Non-Decaf grinder for their espresso bar. That's all you really need, they say, and they are right. You don't need more than that to run a successful retail store.
Let's back up a bit, and remember why we got into this whole coffee business to begin with.
It's About The Coffee
I can't speak for everyone, but there are many people who started into the coffee business because they love coffee. Sure, there is profit to be made, and yes, we love our customers. But before those factors were a reality, the coffee was there, and we learned to love it.
If, as retailers, our roll is to represent the coffee in such a way as to "let it speak for itself", and if our love for coffee included the excitement of the exploration of flavors and new taste experiences, shouldn't we offer these experiences to our customers?
Enter the case for the Third Grinder.
Having a third espresso grinder opens up possibilities for short-run single origin espresso offerings, and room for a limited time guest espresso from one of your favorite roasters.
Keeping things like these on a regular schedule can give your regular customers something to look forward to. Just like in the blog world, regular scheduled updates does more for harboring visits than anything else. (that, and high quality content.. or high quality products, in this case)
Is it expensive? It can be. But so is your espresso machine, and so are your other two grinders. Would you say you get your money's worth out of your decaf grinder? I bet most would answer "no" or "barely" if they were to crunch the numbers of average decaf sales matched to the purchase price of their decaf grinder when it was new. So why do it? It's a service to your customers.
The third grinder is a service to not only your customers, but to the coffee itself, and those who grow it. It increases awareness of the diversity and journey of coffee into your customers' cups. This increased awareness focuses demand, which, in turn, helps to promote the quality driven people in this fine industry, from baristas, to roasters, to green coffee buyers, to processing mill workers, to those who grow and harvest the coffee. The end result is a higher standard across the board.
All this from buying a third grinder? Not exactly, but it is another way to help work towards these goals.
I understand that there are folks out there who consider single origin espresso to be a non-worthwhile endeavor. While I disagree, this is a discussion for another post.
Kudos to Sugar Brown's Coffee for another step in the right direction. Kudos to others who have done the same. And Kudos to those of you who now have plans to implement such a program into your retail plan.
Michael Popovici (Forums member name: tricky ) requested that Murray Street Coffee Shop be added to our list of Retailers. I had a poke around their website a bit and discovered some things about them.
They are located in the Deep Ellum area of Dallas. This leaves them with much opportunity to host music acts such as Calexico, who have performed there before.
The space is out of this world. They advertise a "Scandinavia meets Mid-Century Modern interior", and I'd say they deliver pretty well.
(click to view larger images)
I was a little disappointed to discover that they are pulling shots of Illy espresso. Don't get me wrong, the Illy family has done massive amounts of work and have taught us much about the science of our beloved coffee. However, I hesitate to consider that coffee roasted more than 2 weeks ago, much less months ago, to be of a quality I would personally be comfortable serving. Then again, they do have a lot of fans as one of, if not the largest coffee company on the globe.
It seems worth visiting just to see the space or to catch a live music performance.
I received a very brief email mentioning this coffee company in the DFW area.
It simply said,
specialty coffee roaster, wholesale and retail, Australian to zimbabwe. roastinf for 10 yrs, fair trade, all organic, equal exchange.
Well, I guess that about sums it up!
I did find this little tidbit on their website that I found to be of interest.
We are based in Tx, and offer the finest beans to be had anywhere in the world. All of our products are Certified Organically Grown, purchased only from Fair Trade Growers, and hand selected to insure only the highest grades make it into to your cup.
Mawker Coffee
www.mawkercoffee.com
600 S. Main St.
Grapevine, TX 76051
Ph: 469-569-6718
Mawker Coffee has been added to the lists of Roasters and Retailers.
I received an email from John Ennen, who owns a shop in McKinney called Coffee N Cream.
Coffee N Cream sent one of their baristas to compete in the 2007 SCAA South Central Regional Barista Competition, which might be something worth mentioning. Usually shops don't sponsor such things unless they care a bit about quality.
They serve coffee and ice cream as well. (in case you couldn't tell by the logo)
The combination seems to be a growing concept. Slowly, but surely, I see more popping up here and there.
John has this to say,
We are an upscale coffee shop, with 2 locations in Collin County…one in McKinney, in historic Downtown McKinney, and the other in Allen. We are opening a third shop in Allen this fall, and have plans for two more in Dallas in '09.

We feature some of the finest TX roasted coffee that can be found. We serve it with exacting standards and engaged baristas. Our menu of food items is unparalleled in the industry, with food sales more than twice the national average as a percentage of sales.

We cater to those who wish to "get away", not "drive thru". Those who want a place to come to, "N"-joy, relax and "N"-dulge themselves.

Come visit us sometime soon. Thanks!!
It is not known which roaster they source their coffee from. Has anyone been there, or tried it out?
http://www.mycoffeencream.com/
Come on out and see us. It'll be a fun time. If you're a coffee professional you are especially welcome. FYI…the flyer's a little hard to read. The map says we are on N. Zarzamora Road at King's Hwy, just south of Fredericksburg Road. Here's another map link, just in case.
http://www.BarNoneCoffee.com
Today, I received an email from Chuck Silva of Bar None Coffee Co in Georgetown, TX to promote his shop.
Chuck writes,
Locally owned and operated, Bar None Coffee Co. is dedicated to bringing you the very best espresso and brewed coffee drinks while maintaining the highest level of customer service you'll find, anywhere…bar none.

Come visit us soon. Our drive-thru window is available for the morning commuter in a hurry and there's ample interior seating for you and your friends/colleagues.

Hours of Operation:

Mon: 6:30a – 10p
Tue: 6:30a – 10p
Wed: 6:30a – 10p
Thu: 6:30a – 10p
Fri: 6:30a – 10p
Sat: 7:00a – 10p
Sun: 8:00a – 5p

Bar None Coffee Co. is located at:

105 Wildwood Dr Suite #101
Georgetown, Texas 78633

We're off of Williams Drive in Cedar Breaks Village directly behind the Bank of America and next to the HEB center.
Their website states that they are using Cuveé Coffee, and I know that when they were opening, they received some top class consulting as well.
Strangely, I haven't heard anything about them from anyone whose ever been there. This seems to be a problem pretty common around here. Where are the consumers?!
I just recently heard about this place.
Has anyone been there? How's the coffee?
They've got the classic "3rd Place" concept:
White Rhino Coffee is more than just a coffee shop. It is a place to belong. It is a home away from home. White Rhino is where you go to get a better cup of coffee for less money in a more desirable environment. White Rhino Coffee is where you can be comfortable.
and…
White Rhino exists as a space. It was started because there is a need for a place that creates culture. There is a desire for a community, for a safe place where people can be friends with strangers by virtue of the fact that they are breathing the same air. We want to be intentional about serving our neighbors.

Plus, we like really good coffee.
Location…
White Rhino Coffee is located on the South side of Belt Line Rd. between US 67 and Uptown Blvd. in Cedar Hill, TX.
Website: http://www.whiterhinocoffee.com
White Rhino Coffee has been added to our list of Retailers.