Analysis: Coffee roasters stick with less costly robusta
Starbucks Corp. is telling its harried baristas to slow down—which may result in longer lines.

Amid customer complaints that the Seattle-based coffee chain has reduced the fine art of coffee making to a mechanized process with all the romance of an assembly line, Starbucks baristas are being told to stop making multiple drinks at the same time and focus instead on no more than two drinks at a time—starting a second one while finishing the first, according to company documents reviewed recently by The Wall Street Journal.

Baristas are also supposed to steam milk for each drink rather than steaming an entire pitcher to be used for several beverages. Other instructions include rinsing pitchers after each use; staying at the espresso bar instead of moving around; and using only one espresso machine instead of two, according to the documents. (lots)more…
Is Starbucks trying to prove that it has a soul?  Is it trying to convey the notion that they actually care about the quality of their drinks?  Yes.. but that isn't the question at the heart of the matter.  The real question isn't whether or not a notion is being conveyed.  The real question is whether or not the notion being conveyed is true.
Just for kicks, I googled (is it a real word yet?) "Wall Street Journal Starbucks" and this was the result.
The top link is the current news.  The second link is a direct non-news link to the story.  The third link is a direct non-news link to WSJ's coverage of Starbucks' "Plunge Into Instant Coffee".  Now, maybe it's just me, but isn't there something wrong with this picture?  The fact that Starbucks has been in a bit of an identity crisis lately is no real surprise.  A company cannot be all things to all people, and yet that is exactly what Starbucks appears to be attempting to do.
Let's be clear.  I do not hate Starbucks.  A lot of great coffee professionals got their start at the Siren.  They have taken the idea of coffee as a non-commodity affordable luxury to places where it might not have been successfully introduced otherwise.  Their ubiquitous presence has caused a mass education of the masses, a readily available phony status symbol, an addiction to the combination of sugar, fat, and coffee to the point of a country getting mad at the seller of said products instead of taking responsibility for their own actions, and an enormous population of people who have come to believe that there is such a thing as an industry standard (a part of which is such a thing as the dreaded "Caramel Macchiato").
It would be fantastic if the coffee giant were to suddenly focus on quality in a tangible sense.  I see this as more of a publicity stunt.  An attempt to make the public see them as something they maybe once were, but certainly are not now.
Frankly, I don't give a rip if my double short wet cappuccino (leave a good inch of room, please) takes five seconds or fifteen minutes: as long as it is properly made.
Don't forget!
9am tomorrow morning at the Mosaic Cafe in Carrolton hosted by AAH! Coffee, and sponsored by Pallo (www.coffeetool.com).
it's mostly cupping centered, and it will feature coffees from various roasters in Texas.
Don't miss the customer interaction lecture given by Aaron Heil(AAH! Coffee), and stick around for the Culture of Excellence presentation headed up by Eldon Hooley(Javataza).
Enter the friendly competition(s) if they occur.
Expect it to run for most of the day.
I will not be in attendance. Tomorrow is my birthday, and I intend to spend it leisurly with my significant other. I hope everyone has a blast!
July 19th, 2008
9:00am
Mosaic Cafe
2435 Kinwest
Irving, TX, 75063
Map and Directions
Hosted By:

and
Click Here for more info.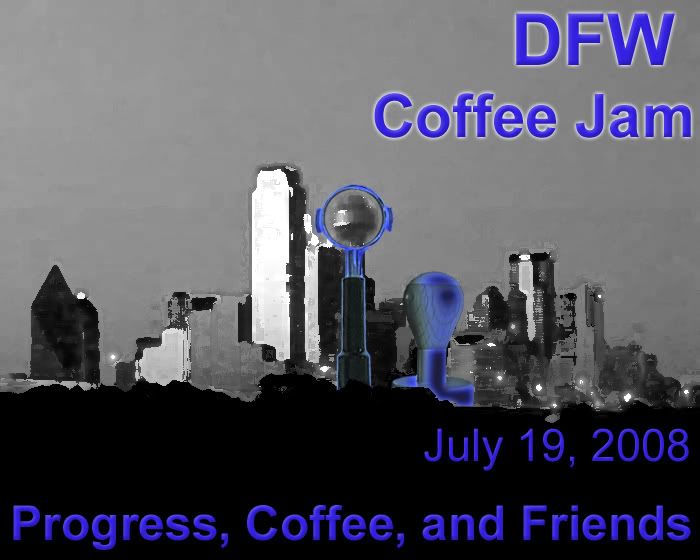 Cupping for quality and roasting analysis
Connecting with the consumer market (customers)
Creating a Culture of Excellence
Espresso techniques and free time
Latte Art Throw Down
Networking
Sponsors
___________________________________________________________
Sponsorships Available! (Contact Us)
This project is a work in progress

My SO (not Single Origin) and I dropped into our local gem of a shop: Sugar Brown's Coffee to grab a cup, play some cards, enjoy the live music and atmosphere, and to just have a good time.
Being past students of mine, they are always excited to tell me of news going on. There is much to tell about their journey, but this is not about their shop, so much as of their latest step forward.
They acquired a third espresso grinder.
Most shops are content with a Decaf grinder and a Non-Decaf grinder for their espresso bar. That's all you really need, they say, and they are right. You don't need more than that to run a successful retail store.
Let's back up a bit, and remember why we got into this whole coffee business to begin with.
It's About The Coffee
I can't speak for everyone, but there are many people who started into the coffee business because they love coffee. Sure, there is profit to be made, and yes, we love our customers. But before those factors were a reality, the coffee was there, and we learned to love it.
If, as retailers, our roll is to represent the coffee in such a way as to "let it speak for itself", and if our love for coffee included the excitement of the exploration of flavors and new taste experiences, shouldn't we offer these experiences to our customers?
Enter the case for the Third Grinder.
Having a third espresso grinder opens up possibilities for short-run single origin espresso offerings, and room for a limited time guest espresso from one of your favorite roasters.
Keeping things like these on a regular schedule can give your regular customers something to look forward to. Just like in the blog world, regular scheduled updates does more for harboring visits than anything else. (that, and high quality content.. or high quality products, in this case)
Is it expensive? It can be. But so is your espresso machine, and so are your other two grinders. Would you say you get your money's worth out of your decaf grinder? I bet most would answer "no" or "barely" if they were to crunch the numbers of average decaf sales matched to the purchase price of their decaf grinder when it was new. So why do it? It's a service to your customers.
The third grinder is a service to not only your customers, but to the coffee itself, and those who grow it. It increases awareness of the diversity and journey of coffee into your customers' cups. This increased awareness focuses demand, which, in turn, helps to promote the quality driven people in this fine industry, from baristas, to roasters, to green coffee buyers, to processing mill workers, to those who grow and harvest the coffee. The end result is a higher standard across the board.
All this from buying a third grinder? Not exactly, but it is another way to help work towards these goals.
I understand that there are folks out there who consider single origin espresso to be a non-worthwhile endeavor. While I disagree, this is a discussion for another post.
Kudos to Sugar Brown's Coffee for another step in the right direction. Kudos to others who have done the same. And Kudos to those of you who now have plans to implement such a program into your retail plan.
So, I'm a bit (a lot?) late on announcing this. The truth is, I didn't remember to announce it here at all, so please forgive!
The giant success of the USBC live feed lead to this fantastic service to specialty coffee industry fans.
I do hope you'll take full advantage of it. This has never once been available in any earlier WBC, and I hope you'll encourage its continuation as more competitions come and go.
http://www.worldbaristachampionship.com/
Click there, or click the image at the top. Enjoy!
June 19-22
Sarah Benedict is a Barista at Starbucks Coffee. She is a member of the Lubbock Coffee Club, and has a passion for great coffee.
Sarah submitted this article:
Re-Training the Siren:
An Insider's View of What to Expect

$.99 lattes were available yesterday from 5:30pm to 9pm at Dunkin Donuts stores because Starbucks baristas were given the evening off. All 7,100 Starbucks locations shut down to have individual store meetings and a heart to heart with Howard Schultz. "Priorities are out of whack," said Shultz via a pre-recorded video. Our focus has been so set on profit generating, that we have lost sight of the perfect espresso and absolute customer service. Each meeting started off with a coffee tasting, as is Starbucks tradition, and then focused on shifting the new focus to three always important things:

First, customer service is our main concern, as it has always been. However, we will do whatever the customer asks us to do, no questions asked, and everything in our power to deliver the best customer service.

Secondly, milk steaming standardization was implemented. We discussed correctly aerating milk, and the importance of perfect foam. Re-steaming milk is unacceptable and attaining the proper temperature is essential. While this seems elementary, the beverage recipes over the years have been personalized by store managers and even baristas to the point that every barista had a different idea of the ideal temperature range for steaming milk.

Lastly, Starbucks is reconfiguring the flavor profile of the espresso. Because Starbucks stores use super automatic machines, the barista has little or no control over the quality of the espresso. Our machines have been recalibrated to pull a longer shot that now must last between 15-19 seconds from first visual. In fact, we no longer use the single shot option, and pull only double shots. When pulling the shots, we are to pull them only into shot glasses, so that we can inspect the quality of the espresso. Every hour we are to time the shots and to taste them as often as possible.

At the end of the night, each barista made a written promise to their store manager, their store partners (coworkers), and customers. We promised to deliver the absolute best customer service; to never deliver anything less than the best. We promised to let every customer know that we value their feedback and input. We value the opportunity to remake any beverage so that every customer has the most rewarding experience and feels appreciated. We promised to hold each other accountable for upholding every single standard and work with each other to meet every expectation set for us by our customers, our partners, our managers, and Mr. Schultz.

We hope that you notice a difference each time you come in. We want it to be more welcoming, more fun, more flavorful, and more of what you want. Demand the best, request 'fore here' mugs, ask us questions because we are ready.
All humor aside, sometimes I really do wonder.
Although offering bottomless cups of coffee can be quite popular with patrons, it may not be the best solution to getting paying customers inside your doors.
Consider this:
Your coffee costs you probably anywhere between $4.50 and $9 per pound wholesale. This is not commodity grade stuff. Why bother to source Specialty Coffee suppliers in the first place if there is no emphasis on the quality of the coffee in the retail environment?
Let's discuss this in terms of perception. A customer comes in. They pay their $1-$2. They get their cup, and head to the air-pot… again… and again… and again. At this rate, what is it they're paying for? Are they paying for the coffee, or are they getting free coffee when they rent some table space for hours on end? Even if they do perceive that they are paying for the coffee, what kind of a message does this send out about the caliber of the coffee being sold?
The point being made is that coffee sold this way is perceived to have little to no value at all. Obviously, if you are a Specialty Coffee retailer, your coffee is far from worthless.
Now, then. I am assuming that part of the reason we all got into this business is to share our love for great coffee with other people, and to help boost the overall appreciation of what it is we do. Does selling coffee for practically nothing contribute to this cause? In a way, yes. But what's the result?
Tossing out bottomless coffee as a menu item has its benefits. For one thing, less waste. You don't need to brew an entire air-pot because a bottomless coffee customer needs a "warm-up"of a coffee that just ran out… half an hour to closing time. (If this happens, and you DO sell bottomless coffee, it is better to serve the customer than to attempt to conserve another pot of coffee).
Better still, is brewing by the cup. There are many solutions to accomplishing this goal, such as a Pour-over Stand, French Presses, Chemex (another pour-over), Siphon Brewers (aka vacuum pots), or the gigantic investment of equipment known as Clover.
There is more than one benefit to the cup-at-a-time concept. For one thing, the perceived value of a cup of coffee increased, and thus, so does the potential pricing. Second, how does "no wasted coffee" sound? Everyone in this business knows that a cup of coffee costs change to the business, but what does this add up to if you compound the average volume of coffee thrown away in just one day? Don't look at it in actual cost, look at it in terms of potential income costs. For most retailers, this is quite a number! Last in this rather short list of benefits is the quality of the coffee. In a hands-on approach to brewing coffee, the barista can actually manipulate various factors to brew a better cup of coffee. With an automated drip brewer, you're pretty much limited with the barista's interaction in the process.
This hand-crafted cup of coffee that tastes divine is certainly something worth paying for. This is not your average off-the-shelf cup of Joe, and your customers will be able to see and taste that with their own senses. Higher profit margins per cup, less waste, and a higher perceived quality of the products being sold by your company. Sound like a winning combination? You bet it does.
Now let's have a look at the other side of this coin. I know there are many retailers who offer bottomless coffee because it encourages their customers to stay for longer. The longer they stay, the more likely they are to buy other items like pastries, bottled water, and food items like panini (or other sandwiches), soup, or salad (if these items are offered). The money is not made on the coffee in these situations, but on the mark-up of the various consumables that a "camper" is likely to purchase during their stay.
When this is the case, then the time has come to ditch the title of "coffee retailer" in favor of something along the lines of "Cafe". At this point, you are no longer selling coffee. You are practically giving it away in an effort to attract more customers to your company's focus: food. Not that there is anything wrong with that. It's best to know where you stand, and to be honest with yourself, and your customers. If you are not primarily a Specialty Coffee retailer, make this reflected in the name of your business, and your company's presentation to the public.
How about another perspective. Starbucks does not sell bottomless coffee, nor do they offer refills at a discount (or even at all). You have to wonder if there's a reason for this. If nothing else, please realize that if Starbucks can do it, so can a quality focused independent retailer. The difference is that the independent retailer has more flexibility to really milk the single cup pricing for all its worth.
What's best for your bottom line may not line up with real possibilities. What's best for promoting coffee and its producers is probably not best for drawing customers in to purchase food items, and visa versa. Your coffee is special, and deserves to be marked according to its value. I encourage you to find the courage to promote the coffee for the sake of great coffee. There is profit to be made in doing so, and the industry as a whole can only benefit from an increased consumer awareness of quality coffee.
Dr Ernesto Illy 1925 – 2008
4th February 2008
It is with great regret that we have to report the death on February 3 of Dr Ernesto Illy, one of the coffee world's most respected scientists, inventors and businessmen. He was 82.
Dr Illy, who for many years headed his family firm, the Trieste roaster Illycaffè, was a research chemist and educator as well as being a coffee entrepreneur. more…