Snap Cups
(Via)
3 ounce ceramic cups with metal clothing snaps embedded in outer cup walls.
Extra snaps included to install cups anywhere: under your cabinet, by your desk, or to your bike handlebars. Neither microwave nor dishwasher safe; completely food safe.
Okay, these are pretty cool, albeit, not very practical.  There's even an audio clip to hear what the "snap" sounds like on the website.  They probably wouldn't get much use, but you could get a killer sculpture out of them, if nothing else.  And you just know some idiot would try to put a metal snap in a microwave to re-heat their double espresso, so of course they left the disclaimer.  What do you think?
Should I keep this "Random Picture Friday" thing going?  (click here for last week's)
Leave your comments so I know whether you like it or not.
I guess at some point, someone thought it would be a good idea to keep your cup of coffee (and a snack) directly OVER your computer keyboard.  A sign that maybe we should be looking for ways to STOP working rather than continue perhaps?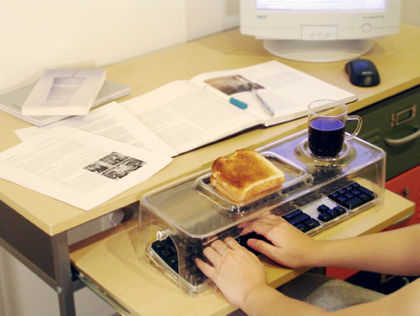 Apparently, this is from Yanko Design, but the product cannot be found anywhere on the website.  Apparently, they realized that this was a horrible accident in "potential" form, that was bound to eventually take the leap into "kinnetic" form.
This has been TX-Coffee's random picture Friday.  We'll see if this trend continues.
(via)