The Coffee Haus Downtown Coffee Roasters in Arlington, TX has closed its doors.
Please see their blog post:  Letter To Our Customers
Oak Cliff couple take coffee beans to customers' doors
"…Here comes coffee time and the man with the goods.
There goes Shannon Neffendorf, cruising the sleepy streets of North Oak Cliff, hanging bags of freshly roasted coffee beans at customers' front door.
"I love delivery day and the way it makes the car smell," says the co-owner of Oak Cliff Coffee Roasters, out and about on his pre-dawn rounds.
He and his wife, Jenni, hope this milkman-style service helps their budding business stand out as more than another joe in the world of java…"
"…The couple launched the venture not long after their marriage. And in just over a year, they have seen it steadily grow to include about 75 residential customers, 10 businesses and offices, and five commercial accounts that sell their beans, serve their coffee or both…"
And here's my favorite part…
"…They aren't alone in North Texas. Texas Coffee People ( tx-coffee.com) lists 12 coffee roasters in the Dallas area on its Web site, which seeks to "promote a community of serious coffee people in a state which most would consider to be a coffee wasteland…"
Kudos to Shannon and Jenni (and the Oak Cliff Brand) for the article!  (and thanks for the plug, whoever was responsible)
And let's not forget to give you Oak Cliff's website link: http://www.oakcliffcoffee.com/
via email:  Ruchi writes,
I am opening a a new upscale coffee shop in Frisco Tx. Next to stonebrair Mall with a drive thru. Need a manager with experence to run this store and grow with the company. Latte art experience is good but we will train to achiieve it. Reply on e-mail Ruchi_usa@yahoo.com or call for interview – at 214-207-4855. Thanks
This job has been posted to our Jobs page.  Thanks, Ruchi!
I received an email from Jonathan A. at White Rock Coffee letting us know about this place near the heart of Dallas.
Jonathan writes,
Just wanted to let you know about a new independent shop in the DFW area. Crooked Tree Coffeehouse opened about a month ago in Dallas' uptown area, at 2414 Routh Street. It's in a pretty "hip" area of town- a residential neighborhood rezoned for business. It's nice to find a coffeeHOUSE in a big city. Cozy location, comfortable furniture, live music is very intimate but can get kind of crowded (no actual stage, just set up in the corner). The owners and baristas are VERY passionate about coffee. They make some great espresso drinks, and also serve your usual fare of teas, chai, smoothies and pastries. All of their coffee comes from a company in Colorado Springs called Bywell, and it's all Fairtrade organic. You can find there website at crookedtreecoffeehouse.com.
Cool! The last time I visited a House converted into a coffee retailer was at Common Grounds in Waco.
Has anyone else visited this place?
Thanks for the heads up, Jonathan.
Crooked Tree Coffee House has been added to our List of Retailers.
Don't forget!
9am tomorrow morning at the Mosaic Cafe in Carrolton hosted by AAH! Coffee, and sponsored by Pallo (www.coffeetool.com).
it's mostly cupping centered, and it will feature coffees from various roasters in Texas.
Don't miss the customer interaction lecture given by Aaron Heil(AAH! Coffee), and stick around for the Culture of Excellence presentation headed up by Eldon Hooley(Javataza).
Enter the friendly competition(s) if they occur.
Expect it to run for most of the day.
I will not be in attendance. Tomorrow is my birthday, and I intend to spend it leisurly with my significant other. I hope everyone has a blast!
July 19th, 2008
9:00am
Mosaic Cafe
2435 Kinwest
Irving, TX, 75063
Map and Directions
Hosted By:

and
Click Here for more info.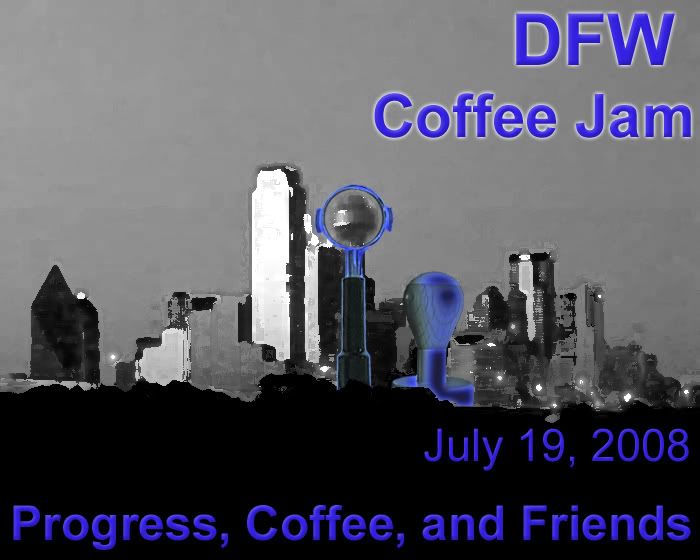 Cupping for quality and roasting analysis
Connecting with the consumer market (customers)
Creating a Culture of Excellence
Espresso techniques and free time
Latte Art Throw Down
Networking
Sponsors
___________________________________________________________
Sponsorships Available! (Contact Us)
This project is a work in progress

Michael Popovici (Forums member name: tricky ) requested that Murray Street Coffee Shop be added to our list of Retailers. I had a poke around their website a bit and discovered some things about them.
They are located in the Deep Ellum area of Dallas. This leaves them with much opportunity to host music acts such as Calexico, who have performed there before.
The space is out of this world. They advertise a "Scandinavia meets Mid-Century Modern interior", and I'd say they deliver pretty well.
(click to view larger images)
I was a little disappointed to discover that they are pulling shots of Illy espresso. Don't get me wrong, the Illy family has done massive amounts of work and have taught us much about the science of our beloved coffee. However, I hesitate to consider that coffee roasted more than 2 weeks ago, much less months ago, to be of a quality I would personally be comfortable serving. Then again, they do have a lot of fans as one of, if not the largest coffee company on the globe.
It seems worth visiting just to see the space or to catch a live music performance.
I received a very brief email mentioning this coffee company in the DFW area.
It simply said,
specialty coffee roaster, wholesale and retail, Australian to zimbabwe. roastinf for 10 yrs, fair trade, all organic, equal exchange.
Well, I guess that about sums it up!
I did find this little tidbit on their website that I found to be of interest.
We are based in Tx, and offer the finest beans to be had anywhere in the world. All of our products are Certified Organically Grown, purchased only from Fair Trade Growers, and hand selected to insure only the highest grades make it into to your cup.
Mawker Coffee
www.mawkercoffee.com
600 S. Main St.
Grapevine, TX 76051
Ph: 469-569-6718
Mawker Coffee has been added to the lists of Roasters and Retailers.
Eldon of JavaTaza suggested that we get a jam of some sort going for the DFW area.
A fine idea, I say.
It's still in the planning stages, and there is no date set, and it seems people are hesitant to pick a date if someone else is unable to make it.
So if YOU would be interested in a DFW jam, JOIN THE DISCUSSION!
Dallas / Ft. Worth NEEDS something like this. There is a lot of coffee, but very little community. Help fix this, and push coffee forward, and raise the quality standard in the Metroplex.
I received an email from Shannon to let us know about their roasting company. He writes,
I just wanted to let y'all know about us. We're a specialty roaster in Oak Cliff (Dallas). We deliver in Oak Cliff and ship anywhere. And deal mostly with Fair Trade, Direct Trade and Organic/Natural coffee.

We're only online right now but we're looking to open a shop soon.

Thanks,
Shannon Neffendorf
Oak Cliff Coffee Roasters
I poked around a bit on their website, and found this in the "About us" section:
Coffee initially became a passion of ours because of the conversations and connections with family, friends and new acquaintances that it facilitates. The passion grew into roasting high quality coffee beans and sharing the passion with others. Coffee, much like life, should not simply be about what you consume but also what you can create.

We desire to create a great coffee experience from aroma to taste to conversation through our beans. Also to do our part, however small it may be, to create a better quality of life for the most crucial aspect of a good cup of coffee, the farm it's grown on.
Thanks for telling us about your roasting outfit, Shannon.
Oak Cliff Coffee has been added to the list of Roasters.