As taken straight from the official Beatnix Myspace blog.
Beatnix Coffee House to Close Saturday

7/23/2008 / Waco, Texas

This Saturday, July 26th, will be the final day that Beatnix Coffee
House opens its doors to the public. A "Closing Bash" will be held,
featuring performances by local musicians.

Beatnix's owner announced on Wednesday the closing of the coffee house
and cultural venue at 1826 Lake Shore Drive, due to poor economic
conditions and lack of capital for expansion.

Opened in 2005 by Penney Simpson, Todd Millerd, and Sandra Hapenney,
Beatnix quickly became known not only for its gourmet coffee and
sandwiches, but as a haven for poetry, art, and music. It was awarded
the Music Association of Central Texas' Groovy Award for Non-Club Venue
of the Year in both 2007 and 2008.

Simpson said "Beatnix has been my dream, and I had so many plans for it,
ways that it could be a gathering place and creative spark for Waco's
culture. But it had to move and grow in order to survive, and our
attempts to find investors or purchasers for the business have all
proved to be dead ends."

Beatnix Coffee House will be open for normal business through Saturday.
On Saturday evening, it will hold a final "Closing Bash" at 6 pm, with
local musicians performing on stage for the last time.
Lack of capital for expansion? Was the business failing, or has it just been stagnant too long?
In any case, nobody ever likes to hear of a shop closing. As a coffee professional, I can't help but be curious as to why it happens. Each case is different, and it's often, though not always, due to failing financially. (or being marooned by the city *coughtpanthercitycough*)
What good is a Groovy Award if it can't save your business? It must be defective!
Thanks to Badger for the tip.
Don't forget!
9am tomorrow morning at the Mosaic Cafe in Carrolton hosted by AAH! Coffee, and sponsored by Pallo (www.coffeetool.com).
it's mostly cupping centered, and it will feature coffees from various roasters in Texas.
Don't miss the customer interaction lecture given by Aaron Heil(AAH! Coffee), and stick around for the Culture of Excellence presentation headed up by Eldon Hooley(Javataza).
Enter the friendly competition(s) if they occur.
Expect it to run for most of the day.
I will not be in attendance. Tomorrow is my birthday, and I intend to spend it leisurly with my significant other. I hope everyone has a blast!
July 19th, 2008
9:00am
Mosaic Cafe
2435 Kinwest
Irving, TX, 75063
Map and Directions
Hosted By:

and
Click Here for more info.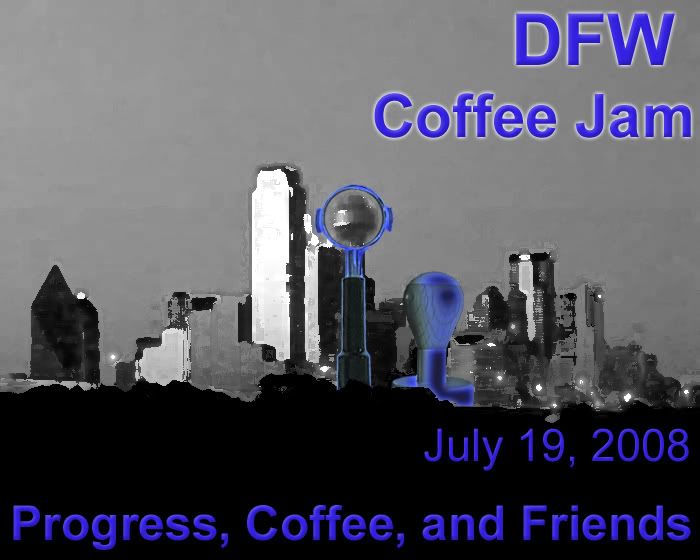 Cupping for quality and roasting analysis
Connecting with the consumer market (customers)
Creating a Culture of Excellence
Espresso techniques and free time
Latte Art Throw Down
Networking
Sponsors
___________________________________________________________
Sponsorships Available! (Contact Us)
This project is a work in progress

He trained James Hoffmann for last year's WBC. He trained Kyle Glanville for the USBC, which he went on to win. He won the Irish Triple Crown of the Irish Latte Art championships, the Irish Cup-Tasting championships, and the Irish Barista Championships. And now, in his first ever appearance in a World Barista Championship, he was crowned the World Barista Champion. This man is unstoppable.
It seems all eyes will be on Square Mile Coffee, the company owned and run by James Hoffman, 2007 WBC, Annette Moldvaer, 2007 World Cup-Tasting Champion, and Stephen Morrissey, 2008 WBC.
They may be in need of more trophy space.
The final order of the WBC is as follows:
1st Stephen Morrissey, Ireland 738.5 pts
2nd David Makin, Australia 733 pts
3rd Liesbeth Sleijster, Netherlands 694.5 pts
4th Daniel Remheden, Sweden 693 pts
5th Michael Yung, Canada 702 pts
6th Soren Stiller Markussen, Denmark 671 pts
Congratulations to all competitors, and congratulations to the World Barista Champion, Mr. Stephen Morrissey
So, I'm a bit (a lot?) late on announcing this. The truth is, I didn't remember to announce it here at all, so please forgive!
The giant success of the USBC live feed lead to this fantastic service to specialty coffee industry fans.
I do hope you'll take full advantage of it. This has never once been available in any earlier WBC, and I hope you'll encourage its continuation as more competitions come and go.
http://www.worldbaristachampionship.com/
Click there, or click the image at the top. Enjoy!
June 19-22
I received a very brief email mentioning this coffee company in the DFW area.
It simply said,
specialty coffee roaster, wholesale and retail, Australian to zimbabwe. roastinf for 10 yrs, fair trade, all organic, equal exchange.
Well, I guess that about sums it up!
I did find this little tidbit on their website that I found to be of interest.
We are based in Tx, and offer the finest beans to be had anywhere in the world. All of our products are Certified Organically Grown, purchased only from Fair Trade Growers, and hand selected to insure only the highest grades make it into to your cup.
Mawker Coffee
www.mawkercoffee.com
600 S. Main St.
Grapevine, TX 76051
Ph: 469-569-6718
Mawker Coffee has been added to the lists of Roasters and Retailers.
Third Coast Coffee Roasting
I received an email the other day from Linda Ryan of Third Coast Coffee Roasting saying,
I am the owner of Third Coast Coffee Roasting Company in Austin Texas. We specialize in Fair Trade Organic coffees, and are the only member of Cooperative Coffees in the Southern US. I would like to be included in your website. Thank you.
I confess, Cooperative Coffees is new to me, so I did a little searching and found this: http://www.coopcoffees.com/
Cooperative Coffees is a green coffee importing cooperative, comprised of 23 community based coffee roasters in the USA and Canada, committed to building and supporting equitable and sustainable trade relationships for the benefit of farmers and their exporting cooperatives, families and communities.
Interesting.
They have a website, but it doesn't have much information on it. (nudge, nudge) http://thirdcoastcoffee.com
Third Coast Coffee Roasting has been added to our list of roasters.
We have 30 oz Chemexes in stock with filters (oxybleached white half-moons…least pulp taste). $38 for both plus FREE SHIPPING for TXCP folks…email me if you're interested. That's like 25% off, folks.

aaron [AT] browncoffeeco [DOT] com
Aaron Blanco posted this in the forums, and I thought it might enjoy a few more eyes.
If you're not familiar with the Chemex brew method already, you acquire familiarity soon.
Eldon of JavaTaza suggested that we get a jam of some sort going for the DFW area.
A fine idea, I say.
It's still in the planning stages, and there is no date set, and it seems people are hesitant to pick a date if someone else is unable to make it.
So if YOU would be interested in a DFW jam, JOIN THE DISCUSSION!
Dallas / Ft. Worth NEEDS something like this. There is a lot of coffee, but very little community. Help fix this, and push coffee forward, and raise the quality standard in the Metroplex.
I received an email from Shannon to let us know about their roasting company. He writes,
I just wanted to let y'all know about us. We're a specialty roaster in Oak Cliff (Dallas). We deliver in Oak Cliff and ship anywhere. And deal mostly with Fair Trade, Direct Trade and Organic/Natural coffee.

We're only online right now but we're looking to open a shop soon.

Thanks,
Shannon Neffendorf
Oak Cliff Coffee Roasters
I poked around a bit on their website, and found this in the "About us" section:
Coffee initially became a passion of ours because of the conversations and connections with family, friends and new acquaintances that it facilitates. The passion grew into roasting high quality coffee beans and sharing the passion with others. Coffee, much like life, should not simply be about what you consume but also what you can create.

We desire to create a great coffee experience from aroma to taste to conversation through our beans. Also to do our part, however small it may be, to create a better quality of life for the most crucial aspect of a good cup of coffee, the farm it's grown on.
Thanks for telling us about your roasting outfit, Shannon.
Oak Cliff Coffee has been added to the list of Roasters.