July 19th, 2008
9:00am
Mosaic Cafe
2435 Kinwest
Irving, TX, 75063
Map and Directions
Hosted By:

and
Click Here for more info.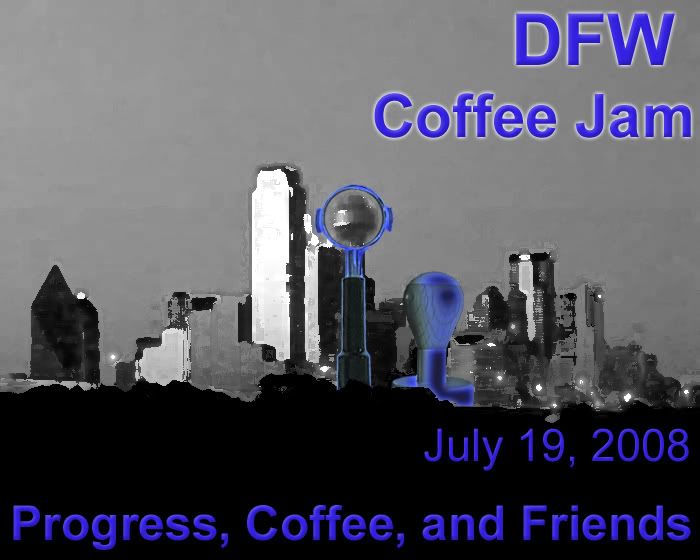 Cupping for quality and roasting analysis
Connecting with the consumer market (customers)
Creating a Culture of Excellence
Espresso techniques and free time
Latte Art Throw Down
Networking
Sponsors
___________________________________________________________
Sponsorships Available! (Contact Us)
This project is a work in progress

We have 30 oz Chemexes in stock with filters (oxybleached white half-moons…least pulp taste). $38 for both plus FREE SHIPPING for TXCP folks…email me if you're interested. That's like 25% off, folks.

aaron [AT] browncoffeeco [DOT] com
Aaron Blanco posted this in the forums, and I thought it might enjoy a few more eyes.
If you're not familiar with the Chemex brew method already, you acquire familiarity soon.
I saw a picture of someone's home espresso shrine, and noticed a cold brewer that looked very similar to the larger version I saw in pictures of Blue Bottle's "$20,000 Coffee Brewer" (which is really a very very expensive heating element paired with some normally priced vac pots)… the cold brewer is made by the same company, and thus, it matches the vac-pot bar.
This smaller home version of the elegent design got me curious, and so I started hunting, and came across this little gem.
This is the Coffee Snob Cold Drip Coffee Maker.
You may already be familiar with the Toddy style brewer, which differs in design just a bit.
With the Toddy brewer, ground coffee is steeped in cold water overnight, and then filtered through a cloth filter.
The Coffee Snob brewer drips cold water ever so slowly through a cup containing ground coffee at the speedy rate of about 1 drop per second. (yippie!)
The result (like the Toddy) is a concentrated brew unlike any brew method relying on hot water for extraction.
While Cold Brewing has many fans, the previously available home versions have left much to desire in visual appeal.
The Coffee Snob does the job in a roughly 2ft. tall package that adds elegance and miles of style. Guaranteed to spark a little conversation for converts and future converts alike.
And best of all, Coffee Snob is a company located here in Texas. Manchaca (near Austin), no less.
They are available for purchase online, or at Monkey See, Monkey Do located at 1712 S. Congress in Austin.
I just couldn't resist sharing this with you. A new discovery for me, possibly not for some others, but certainly interesting nonetheless.