I am pleased to introduce Graham Sample, a new contributor to Texas Coffee People.  Graham is a barista at Palace Coffee Company in Canyon, TX, and is working to bring quality coffee to northern West Texas in an approachable manner.  In addition to coffee, he apparently loves to write.
Graham has submitted the following article :
"Hi, my name is Graham and it has been 3 years since I started working in the coffee world."
(Does that remind you of a certain meeting (hopefully not from personal experience)?)
What's sad is that this analogy is not too far off of the mark at times. Working in the industry I have met some of the nicest, most humble, knowledgeable barista and roasters that you could imagine. You know what else? They are approachable and seem human. However, I have also met some of the most arrogant, unapproachable humans that the world has seen since the hipster movement. My question is this, why?
Why is it that when a person thinks that he, or she, knows how to pull the "perfect" shot that they suddenly become the god of the universe whose glory is too bright to be approached? Why have baristas become so addicted to the pursuit of all things sophisticated?
There are many philosophical reasons that could attempt to explain this, but I will leave that to those who are schooled in this train of thought. Where I wish to go with this is merely, we are killing the accessibility to our industry that we love.
When the mere peasant walks into a coffee shop and feels less than simply because they don't know what the difference between a full city or an American roast is, we aren't doing our jobs. We were all there once. That starry eyed teenager or twenty something, with a portafilter awkwardly held in one hand and a tamper in the other. There was a point in all of our lives when it didn't matter whether or not you tapped and then tamped, or overdosed, or surfed then whirlpooled as opposed to whirlpooling then surfing the milk. There was a point when you just wanted to learn; and if you can remember back even farther than that, there was a pointed when all you wanted to do was drink. Try to think back to then.
The next time someone comes into your shop and orders a macchiato, don't sneer because they meant a caramel macchiato. Explain with a smile. We are slowly (maybe even quickly) becoming an industry that is less and less approachable as time goes on. We don't want that. We should always be trying to grow our experience, our knowledge and our culture. However, this shouldn't be done at the expense of closing people out.
POSITION FILLED
Taken straight from BaristaExchange…
I need to hire a full time barista in Austin, Tx.

We're an independently owned shop with a focus on quality coffee as well as relationships with our customers.  This barista must have a strong work ethic, the ability to work well solo and as part of a team, and a strong desire learn about coffee, equipment, etc…

Interested baristas should forward their resume via email to ____@______________.

Thanks everyone!
(via)
I received an email from a gentleman in the Philippines named Jerry Caunca who is looking for work as a Barista.
Jerry writes,
(paraphrase)…I'm from the Philippines.  I want to go to Canada or the United States.  I have been a coffee barista for 5 years here in the Philippines.
His resume is quite interesting.  He has been a barista (coffee professional is probably more accurate.  He has some background in roasting as well.) for a few years, and has been in the service industry for his entire career.  He seems to enjoy serving and interacting with people.
Any roaster and/or retailer looking to take on some fresh talent should probably take a look at his resume and contact him.  His phone number is in his resume.
Jerry S. Caunca's Resume (PDF)
I received an email from Hayley who is looking for work as a barista in San Antonio.
Her cantact info is listed below, as well as her resume in .pdf format.
Hayley Massie
314.882.2682
checkeredgrrl@aol.com
680 E Basse Rd #338
San Antonio, TX 78209
This has been added to the List of People in the Jobs section.

via email:  Ruchi writes,
I am opening a a new upscale coffee shop in Frisco Tx. Next to stonebrair Mall with a drive thru. Need a manager with experence to run this store and grow with the company. Latte art experience is good but we will train to achiieve it. Reply on e-mail Ruchi_usa@yahoo.com or call for interview – at 214-207-4855. Thanks
This job has been posted to our Jobs page.  Thanks, Ruchi!
July 19th, 2008
9:00am
Mosaic Cafe
2435 Kinwest
Irving, TX, 75063
Map and Directions
Hosted By:

and
Click Here for more info.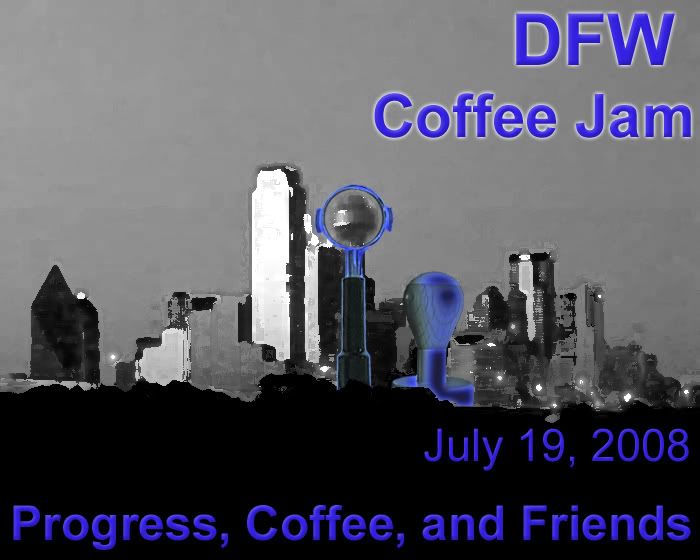 Cupping for quality and roasting analysis
Connecting with the consumer market (customers)
Creating a Culture of Excellence
Espresso techniques and free time
Latte Art Throw Down
Networking
Sponsors
___________________________________________________________
Sponsorships Available! (Contact Us)
This project is a work in progress

So, I'm a bit (a lot?) late on announcing this. The truth is, I didn't remember to announce it here at all, so please forgive!
The giant success of the USBC live feed lead to this fantastic service to specialty coffee industry fans.
I do hope you'll take full advantage of it. This has never once been available in any earlier WBC, and I hope you'll encourage its continuation as more competitions come and go.
http://www.worldbaristachampionship.com/
Click there, or click the image at the top. Enjoy!
June 19-22
realize this is a subjective of a topic as any, but I'd like to see some discussion.
There used to be only one option. Flat base. Most of them were one-piece aluminum or stainless steel, and were not entirely ergonomic, but weren't all that uncomfortable either. Rarely did they ever fit the basket like a glove.
Now days, we have several options to choose from. There are a wide variety of manufacturers of quality tampers, each with their own ideas.
There is massive range of styles of tamper handles. From skulls to giant sticks. From ergonomic form, to rubber handles. But really, the only part that has any impact on the espresso is the business end. The piston, or base.
(click for larger version)

There are plenty of opinions and ideas about why each is better or worse than the others.
The original style was the flat base. Then came the convex base, now known as "euro curve".
Then along came the milder "american curve" to serve as a bridge between "flat" and "convex" bases.
Well, Reg Barber decided that this just wasn't good enough, and designed what he calls the C-Flat base. The ultimate hybrid design. Curved edges, and a flat center.
I have personally done a lot of experimentation with the different tamper styles, and the results are about what one would expect if they felt they had a good intuitive understanding of espresso preparation.
There are also ideas floating around about how the tamper base should be paired with the shape of the shower screen on your espresso machine. For example, if the shower screen is flat, you should get a flat tamper. If the shower screen is curved, you should try to match that curvature with your tamper. A more aggressively curved shower screen needs a euro-curve tamper, a flat shower screen needs a flat tamper, and so on.
There are other ideas going around about how the tamper should be based on whether or not your filterbasket is tapered or straight-walled. The degree of curvature should, in theory, be determined by the degree of inward tapering found in the filterbasket. There is a theory that states that the supposed benefits of a convex tamper base are only applicable if the filterbasket has an inward taper. Unfortunately, the theory doesn't go into many details, but I think it's pretty self-explanatory.
I tend to prefer an American Curve base, for all filter basket applications, personally, althought I used a flat base in competition, and I tend to vary between them from time to time, just for taste or observational purposes.
But this blogger is curious. What is your preference? Whare the reasons you think your preferred base is beneficial?
Leave comments below, and let's get this discussion rolling.
This is a great new probject from a gentleman named Mads-Ole Bak who lives in Denmark. The concept is to have all information about all national competitions all over the country consolidated into just one easy to find and navigate location. Brilliant!
He had this to say:
The purpose of the site is to make a thorough coverage of all the competitions that will be going on during the SCAE Wonderful Coffee exhibition in Copenhagen this summer.

We will have access to the competitions and SCAE have agreed to cooperate with us during the event, so we (hopefully) can make a very interesting site for everyone who would like to follow the competitions but are not able to be in Copenhagen.

In addition to the World championships, we would also like to collect a lot of information about all the national competitions. It has proven pretty difficult to find out who won the national championship. So we hope that some of you would like to help us if you know anything about national competitions that we should bring on WBConEspressoBar.

Please feel free to visit the site, register in our forum and post any information you might have in the "National Chapters" forum

We hope that you will find our site interesting and that we will be able to bring you a lot of good stuff during the competitions in June.
For some reason, national coffee associations have a hard time making competition information as easy to find as it could be.
It's high time something like this came along.
Check it out, and sign up to join by visiting: WBConEspressoBar
I received an email from a Mr. Robert Keller who happens to make and sell an interesting product.
Robert writes,
Hello Texas,

I want to be a friend of TCP. I have a coffee related product. I created a plug, learned how to manufacture it and now make them in California. True I am not a Texan but I do have friends and family that are Texan.

Kind Regards

Robert Keller
AttPlay Solutions
He calls them Coffee Kisses, but they look an awful lot like other products I've seen in the past.
The only real difference I can see is that these look to be a lot lower profile than other varieties I've seen.
Straight from the website:
A Simple Plug Designed to Fit Snug in
the Sip Hole of Your Travel Plug Lids.Less Mess $$$ Saves Time $$$
Protects your customers and baristas $$$
Gives a GREAT Coffee Experience !!!
Increases Customer Loayalty !!!
Makes You Money $$$
Designed To Fit Travel Cup Lids By:
Solo…
Sweatheart…
Insulair…
IMx…
Graphicup…
Dopaco…
Karat…
Chinet…
and Others.
You can also buy online from packs of 2, all the way up to packs of 1,000. In packs of 600 or more the plugs are only $.01 each. Such a simple investment for that extra bit of customer satisfaction.
http://mycoffeekisses.com