Just a reminder:
Barista Nation Texas happens this upcoming Monday, all day long.
Where?
Oak Cliff Coffee
817 W Davis St.
Dallas, TX 75208
When?
Registration is from 9:30am to 10:30am.
The schedule of events runs until 6:30pm with a reception to boot.
I hope to see you there!
The first actual Barista Jam I've seen in Texas in a Loooong time.  (Latte Art Throwdowns seem to have taken over)
Hosted by Oak Cliff Coffee in Oak Cliff (neighborhood in Dallas).  Entry is only $10, and every penny goes to Care.org (in fact, that's where you go to pay for it).
Mingle with your coffee-loving brethren.  Learn new knowable knowledge.  Have fun learning about coffee in a social setting.  Do it all for a good cause. (or because you're a selfish, attention-hungry coffee slinger who wants somewhere to show how awesome you are.  This is perfect for you).
Sugar Brown's has put on a weekly latte art throwdown for the entire month of June.
A local photography enthusiast was kind enough to document the last two of them.
Here are a few photos from these two throwdowns.  Enjoy!
The first four photos are from the first Sprodown.  The rest are from the second.
As taken straight from the Barista Exchange event page:
Time: March 28, 2009 from 3pm to 9pm
Location: Caffe Medici Guadalupe, Austin, TX
Street: 2202 Guadalupe Street
City/Town: Austin
Website or Map: http://maps.google.com/maps…
Contact Info: 512-474-5730
Event Type: latte, art, throwdown, barista, jam
Organized By: Lorenzo Perkins, Patrick Pierce
The first of many bad ass barista jams and Latte Art Smackdowns to be held in the ATX. Informative, Fun, Community Driving and did I mention . . . AWESOME!
The jam will start off with a cupping from different roasters from around Texas, followed by an in depth coffee discussion, and of course, a winner take all pour-off.
For more information go to http://saturdaynightsmackdown.blogspot.com/
Don't forget!
9am tomorrow morning at the Mosaic Cafe in Carrolton hosted by AAH! Coffee, and sponsored by Pallo (www.coffeetool.com).
it's mostly cupping centered, and it will feature coffees from various roasters in Texas.
Don't miss the customer interaction lecture given by Aaron Heil(AAH! Coffee), and stick around for the Culture of Excellence presentation headed up by Eldon Hooley(Javataza).
Enter the friendly competition(s) if they occur.
Expect it to run for most of the day.
I will not be in attendance. Tomorrow is my birthday, and I intend to spend it leisurly with my significant other. I hope everyone has a blast!
July 19th, 2008
9:00am
Mosaic Cafe
2435 Kinwest
Irving, TX, 75063
Map and Directions
Hosted By:

and
Click Here for more info.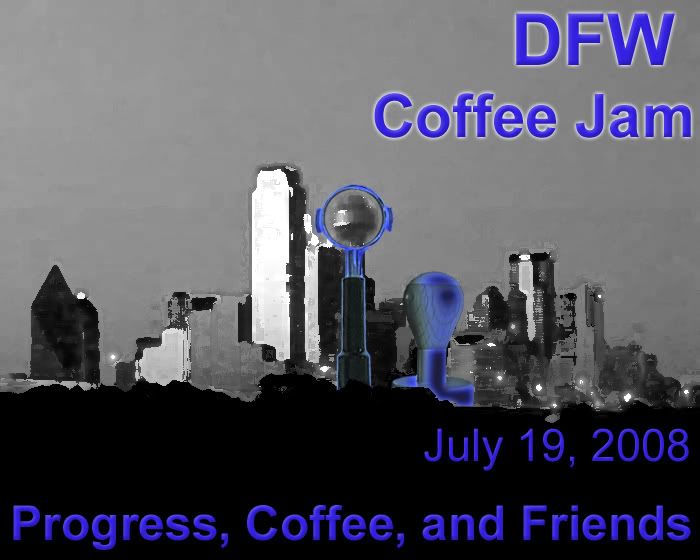 Cupping for quality and roasting analysis
Connecting with the consumer market (customers)
Creating a Culture of Excellence
Espresso techniques and free time
Latte Art Throw Down
Networking
Sponsors
___________________________________________________________
Sponsorships Available! (Contact Us)
This project is a work in progress

This is a great new probject from a gentleman named Mads-Ole Bak who lives in Denmark. The concept is to have all information about all national competitions all over the country consolidated into just one easy to find and navigate location. Brilliant!
He had this to say:
The purpose of the site is to make a thorough coverage of all the competitions that will be going on during the SCAE Wonderful Coffee exhibition in Copenhagen this summer.

We will have access to the competitions and SCAE have agreed to cooperate with us during the event, so we (hopefully) can make a very interesting site for everyone who would like to follow the competitions but are not able to be in Copenhagen.

In addition to the World championships, we would also like to collect a lot of information about all the national competitions. It has proven pretty difficult to find out who won the national championship. So we hope that some of you would like to help us if you know anything about national competitions that we should bring on WBConEspressoBar.

Please feel free to visit the site, register in our forum and post any information you might have in the "National Chapters" forum

We hope that you will find our site interesting and that we will be able to bring you a lot of good stuff during the competitions in June.
For some reason, national coffee associations have a hard time making competition information as easy to find as it could be.
It's high time something like this came along.
Check it out, and sign up to join by visiting: WBConEspressoBar