Elephant Dung Coffee Among World's Most Expensive, Exclusive
You've likely heard of civet coffee.  No?  Kopi Luwak?  Here, let me refresh your memory:
Does that look familiar?  People often talk about how "smooth" civet coffee is, and the pickle always seems to be the novelty that it was previously enjoyed by a cat-like critter in South East Asia.
The next trend in like fashion is now known as Black Ivory.
Arabica coffee grown at 1500 meters (a decent altitude, actually) is brought to elephants to eat up with their long snouts, cramming the coffee fruit into their enormous cavern-sized mouths before digesting, and.. (ahem).. you know.
The elephant's caretaker then harvests the now strangely valuable coffee remnant (the seed, what you and I know as the unroasted bean) to be roasted and sold at a premium.  What kind of a premium are we talking?  I'm glad you asked.
$1,100 per Kg
 Yes, that's $498.95/lb, or $31.18/oz, which rounds out to roughly $15.59 per brewed 8oz cup of elephant poop coffee.  To be fair, a portion of sales goes for a good cause.. to help the elephant who ate the coffee, or something.  You can read the original article here: Elephant Dung Coffee Among World's Most Expensive, Exclusive
Yes, it's true.  The Fiat 500L will be the first production consumer automobile to include an espresso machine as a trim option.
Ridiculous?  probably.  Marketable?  Absolutely.  Available in the US?  Odds are slim.
Let's be honest, would you really want an espresso made by your car from a tiny pack of pre-ground Lavazza espresso blend?  I guess that depends on how addicted and how desperate you are.  I know I've been there.
Check out more pictures and more information (including a promo video from Fiat, and another video from Autoblog that shows the contraption in all its.. well.. glory?) by clicking here.
From designer Peter Ibruegger. (Source)
The Moustache Mug

Enjoy effortlessly masquerading behind a character moustache while
drinking your favourite tea or coffee. Every mug has a different design
on each side to explore your favourite masculine expression! Choose
between feisty Fu-Magnum, ambiguous Mustafa-Chaplin and cheeky
Maurice-Poirot!
So, yes, it has been awhile since I had done one of these.  I found this and just couldn't pass it up!  It reminds me of the Soda 'Stache.  If you haven't seen it yet, don't worry.  It has a planned appearance as a Random Picture Friday feature.
Have a great weekend!
(From USA Today) – Here we go again.
Starbucks remakes its future with an eye on beer and wine
By Bruce Horovitz, USA TODAY
…A very different kind of Starbucks is on tap. It will serve regional wine and beer. It offers an expansive plate of locally made cheeses — served on china. The barista bar is rebuilt to seat customers up close to the coffee.

Most conspicuously, the place looks less like a Starbucks and more like a cafe that's been part of the neighborhood for years — yet that's "green" in design and decor. This is the calling card of independent java joints that have been eating and sipping away at Starbucks' evening business for decades. U.S. Starbucks stores get 70% of business before 2 p.m…. more…
More signs of an identity crisis, or a case of "If you can't beat 'em, Join 'em?"  I just can't help but think that Starbucks is clamoring for more attention.  Is this more of the same, or will this turn into a new format?  Remember Starbucks independent knock-off cafes?  Like 15th Avenue Coffee & Tea?  Will it last?  Will it fizzle?  Will this be a one-or-tw0-location-spinnoff in an effort to gain organic media attention in place of shameless advertising?
Only time will tell.  Is it a good idea?  I personally think that it depends on the neighborhood.  You don't want people getting drunk in your neighborhood "upscale" coffee house… do you?  (perhaps a topic for a future post)
Are you are tired of Starbucks news as we are?
Via Facebook:
Sugar Brown's Coffee is feeling generous. Espresso happy hour – take a break from your back-to-school shopping with a free espresso macchiatto Tuesday from 1-3 pm!
You heard it here.  What a great way to promote new customers to try them out.  Also a great way for existing customers to try a real macchiato, risk free.
I'm not saying this is the ideal way to make a cup of coffee, but you can't deny how cool it is.
It roasts.

It grinds. It brews.

Three operations. Three tools.

A 5 minute video showing the process. From green bean, to cup of coffee. All from one table-top design set.

COFFEE MAKER from tommetcalfe on Vimeo.
(via)
Grande nonfat mocha with a single shot? Or tall soy cappuccino with a double-shot?
Match the beverage shown on a roll of dice to make the perfect cup and win! But wait…other players can force you to spill your drink order, or they can change the drink order and mess up your hand! Or maybe a player is closer to finishing the drink order than you are and calls a Barista challenge. (More…)
As first discovered on the Chemically Imbalanced blog.
No comment.
As usual, Have a Great Weekend!
-
Snap Cups
(Via)
3 ounce ceramic cups with metal clothing snaps embedded in outer cup walls.
Extra snaps included to install cups anywhere: under your cabinet, by your desk, or to your bike handlebars. Neither microwave nor dishwasher safe; completely food safe.
Okay, these are pretty cool, albeit, not very practical.  There's even an audio clip to hear what the "snap" sounds like on the website.  They probably wouldn't get much use, but you could get a killer sculpture out of them, if nothing else.  And you just know some idiot would try to put a metal snap in a microwave to re-heat their double espresso, so of course they left the disclaimer.  What do you think?
Should I keep this "Random Picture Friday" thing going?  (click here for last week's)
Leave your comments so I know whether you like it or not.
I guess at some point, someone thought it would be a good idea to keep your cup of coffee (and a snack) directly OVER your computer keyboard.  A sign that maybe we should be looking for ways to STOP working rather than continue perhaps?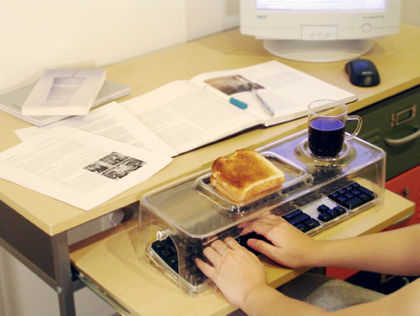 Apparently, this is from Yanko Design, but the product cannot be found anywhere on the website.  Apparently, they realized that this was a horrible accident in "potential" form, that was bound to eventually take the leap into "kinnetic" form.
This has been TX-Coffee's random picture Friday.  We'll see if this trend continues.
(via)
To celebrate the inauguration of Barack Obama, Kick Butt Coffee will give out free Americano coffees.  To take advantage of the promotion, which will run till the end of the month (January 31st), you need only to enter Kick Butt Coffee and say, "Yes we can!" to a barista (bartender). You will be able to walk away with a free Americano coffee.
-as seen in a kick butt coffee email notice